Featuring: Flamencos de Phoenix, AZ
The Arizona Flamenco scene strives to keep flamenco alive in our community, both as a language and as a beauty of art personified. Join us at the Arizona Latino Arts and Cultural Center in downtown Phoenix, AZ and be part of the Flamenco tablao experience.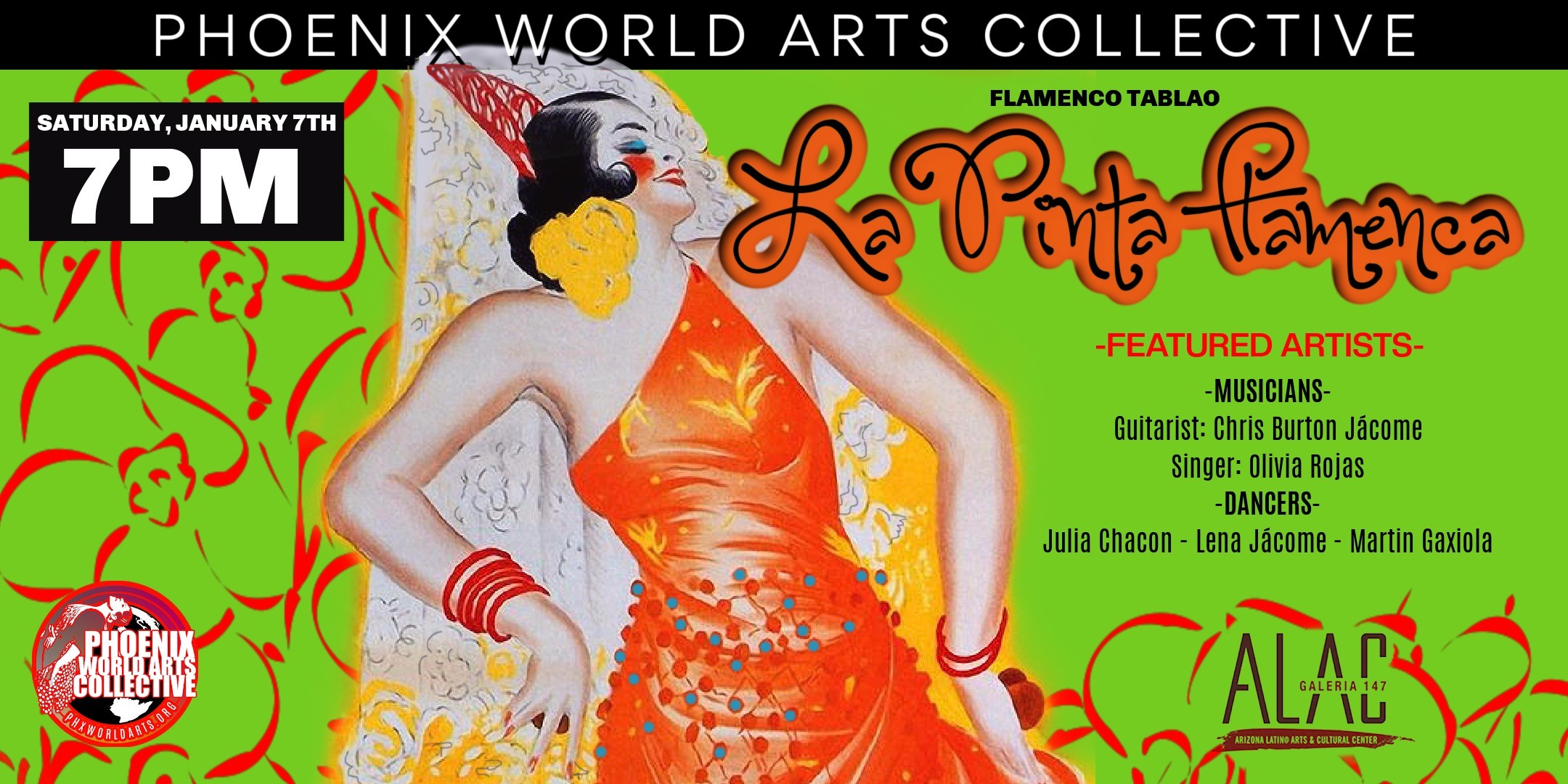 "Fiesta de Verano" by Chris Burton Jacome/ Album: Pa'lante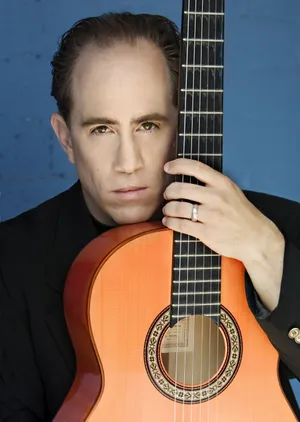 Chris B. Jácome, Artistic Director, touring international flamenco guitar virtuoso and composer, has played to many sold-out solo performances and has worked alongside great artists such as Compania de Maria Jesus (Sevilla, Spain) and as the musical director of Calo Flamenco. Chris has been an invited guest artist of the prestigious La Guitarra California Festival multiple times performing alongside such top classical guitarists as Pepe Romero, Ana Vidovic and Roland Dyens. He has presented his productions at such venues as Jazz at Lincoln Center and New York City Center.

Chris' music can be heard on popular TV shows such as "Touch", "Kyle xy" and "Greek", the feature films "Amreeka", "9/Tenths" and the recently released feature film "Just the Vampire Hunter", which showcases Chris' composing skills and guitar virtuosity in multiple genres. Chris has written and produced five critically-acclaimed CDs including his album entitled, "Levanto". Chris won the Grand Prize in the John Lennon Songwriting Contest World Category two years in a row with his original songs from "Levanto"!

Chris has composed chamber and full orchestral works performed by SOU Percussion Ensemble, The Chandler Symphony Orchestra, The University City Symphony Orchestra in St. Louis, Missouri and the San Tan Orchestra in Phoenix, AZ.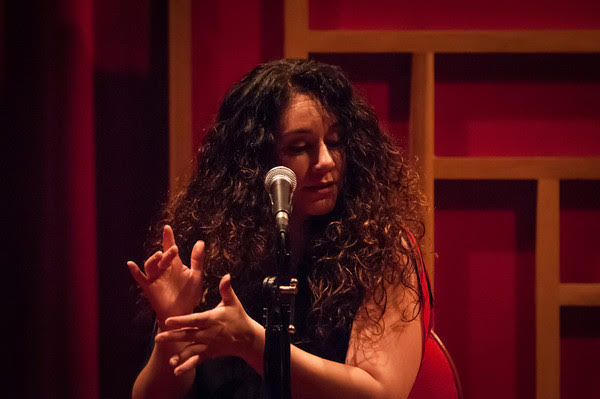 Olivia Rojas is a traveling flamenco singer artist. She began her professional career singing choral and Mexican rancheras. In 2004, Olivia began singing flamenco cante and has toured throughout the United States with Calo Flamenco: Ballet de Martin Gaxiola and Chris Burton Jacomé Flamenco Ensemble. She has had the honor of performing at the prestigious Tablao Flamenco Albuquerque during the Albuquerque Flamenco Festival for the past two years and recently performed with Sachiko "La Chayí", DanzArtsSan Diego, EmiArteFlamenco and La Juerga Flamenco Ensemble. She has performed throughout the State of Arizona with Alma Performing Arts, Carlos Montufar – World Dance, Mosaico, Yumi La Rosa Ensemble, Flamenco del Pueblo Viejo and Inspiracion Flamenca.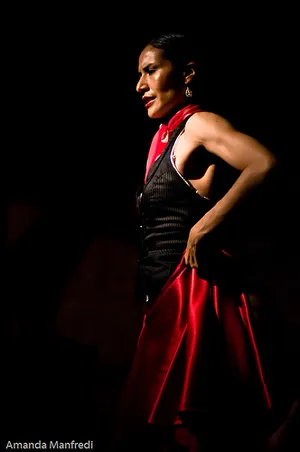 Lena Jácome is an internationally touring flamenco dancer, choreographer and instructor. She performed as, and choreographed for the role of 'Flamenco Dancer', in Teatro Bravo!'s presentation of 'Lorca in a Green Dress'. She was an invited guest artist to perform for the Ibero-American Association in Jakarta, Indonesia and she was an invited guest performer & instructor for the Dance Network of South Dakota. Some performance highlights include Jazz at Lincoln Center, New York City Center and she guest performed in the World Premiere of the Pangean Orchestra at Symphony Hall. In 2014, she performed and choreographed for the first symphonic work to include flamenco dance entitled, 'Impulso', composed by Chris Jácome and Henry Flurry. This work premiered in St. Louis, Missouri with The University City Symphony Orchestra.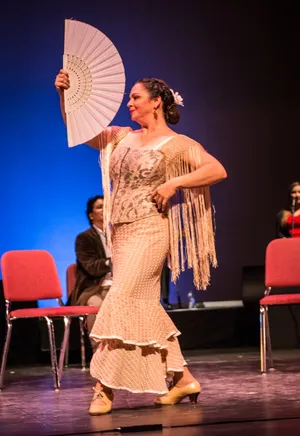 Julia Chacón was born in Albuquerque, NM and raised in Phoenix, AZ. She trained extensively in ballet, and started Spanish dance at age 12 with Lydia Torea (former principal soloist with José Greco). Julia graduated from the University of New Mexico where she studied modern dance with Bill Evans and flamenco with Eva Encinas Sandoval. Throughout college she attended New Mexico's Festival Flamenco, arguably the most prestigious flamenco event outside of Spain. Exposure to artists such as Eva Yerbabuena, the Farruco Family, Antonio Canales, Belen Maya, Mayte Martin, el Extremeño, and el Viejin changed the direction of her life.
She completed 6 national tours with Flamenco Vivo Carlota Sanana (NY) working with artists such as Antonio Hidalgo, Matias Lopez Exposito, Gaspar Rodriguez, Andres Peña, Carlos Rodriguez, Angel Rojas, and others.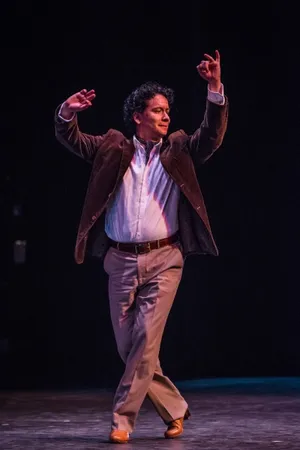 Martin Gaxiola, choreographer and dancer, was the artistic director and founder of his own flamenco music and dance ensemble, CALO FLAMENCO, based in Phoenix, AZ. Martín began studying dance in 1992 and since then has studied flamenco extensively in Spain (Sevilla and Madrid) with such renowned artists as Antonio Granjero, Immaculada Ortega, Juana Amaya, Manolo Marín and in the U.S. with Dini Roman. He gained professional experience performing with such dance companies as Maria Benitez Teatro Flamenco (NM), Flamenco Ole! (PA), Flamenco Y Más (AZ) and can be seen in two different PBS television specials: "Flamenco", and "Flamenco: The Passion of Flamenco Dance".Martín has shared his flamenco artistry in dance classes and lecture demonstrations to children, students and adults across the U.S. and abroad. As a choreographer, he created several original works and full theatrical presentations for various dance companies and solo artists in the U.S.